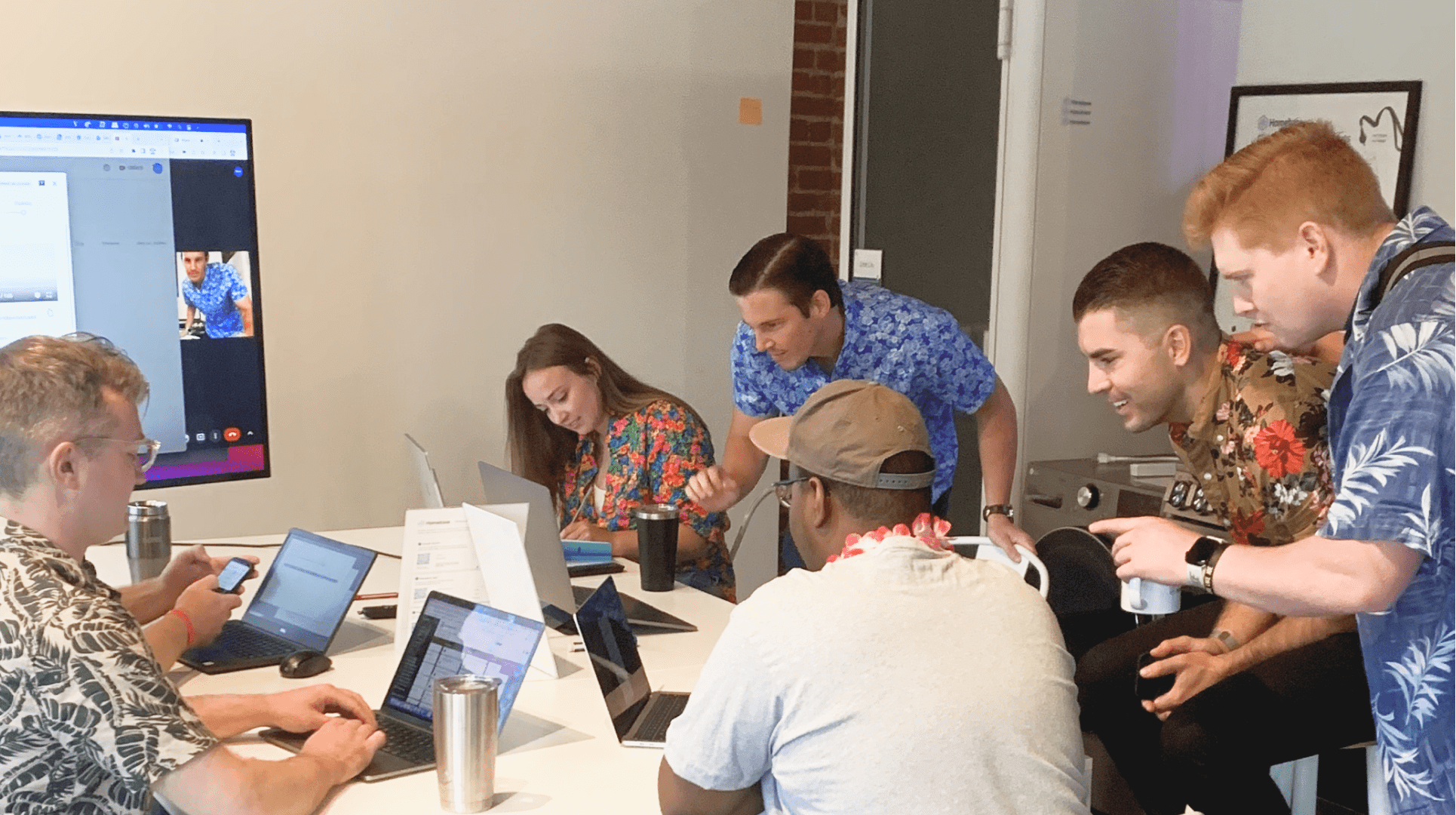 Last week, our team held our first Homebase hackathon. 
Coined in 1999 by mixing the words "hack" and "marathon," hackathons have become a staple within the tech world. Adam England, Homebase Vice President of Engineering states: "It's a way to tell developers to forget the process and constraints that you usually have. Just sit down, hit the problem you want to solve and come up with an innovative solution in a short period of time."
For Homebase's first hackathon, we were focused on innovation. Adam expressed, "Even though this comes out of the software field, there is no reason we have to keep this to just coding problems." 
We wanted to see what new features our team members would come up with if we put them in the driver's seat, so we let them choose a problem they would like to solve. These problems could range from new platform features to new internal processes. With this guidance, six cross-departmental teams were formed. They all had six days to come up with their creative solutions.
We went into the process hoping to have one or two projects that we could bring into production for our customers. At the end of the week, we had six projects ready to go into QA. 
Here's what our team captains had to say about the process.
Jared Krause | Project Aloha: Visitor Management
First impressions are everything and visitors are often anxious when they visit a new place for the first time, so Jared's team created a secure and inviting solution to visitor management. Their final demo included a custom visitor check-in form featuring photo upload, name pronunciation, and more. They also integrated with our notifications system to text visitors community instructions and notify hosts when visitors arrive. Using QR codes to check in instead of a traditional form allows dozens of visitors to check in at the same time. To ensure security, each interaction is tracked in an activity log inside the Homebase Manager.
What challenges did your team encounter?
Creating a working demo in just 6 days. Building a solution that worked for multiple user types within our current platform.
What was the best part of the process?
Collaborating with awesome people that don't normally work on the product directly! Taking a break from our current sprints to design something brand new. Creating an impactful improvement that we can use daily to greet visitors to the Homebase headquarters.
Vanessa Bass | Team To Chell with it!: Device Inventory Management
Device management is important for our company to scale, so Vanessa's team tackled that issue head-on. They created a master platform that will enable us to track devices throughout their entire lifecycle. It will allow us to check device health and view historical data like the last maintenance date. 
What challenges did your team encounter?
There were a lot of ideas and not enough time.  We saw so much potential in the original idea, that elements continued to be added.  As a result, it hindered what we could have completed fully.
What was the best part of the process?
I have to say the best part of the hackathon was working with people in other departments that I do not usually get to work with professionally.  I also appreciated how positive and supportive everyone was with each other.  Even the team leaders helped other teams.  There was a genuine atmosphere that everyone wanted each other to succeed and we could not wait to see not only what we had built, but what the other teams had built.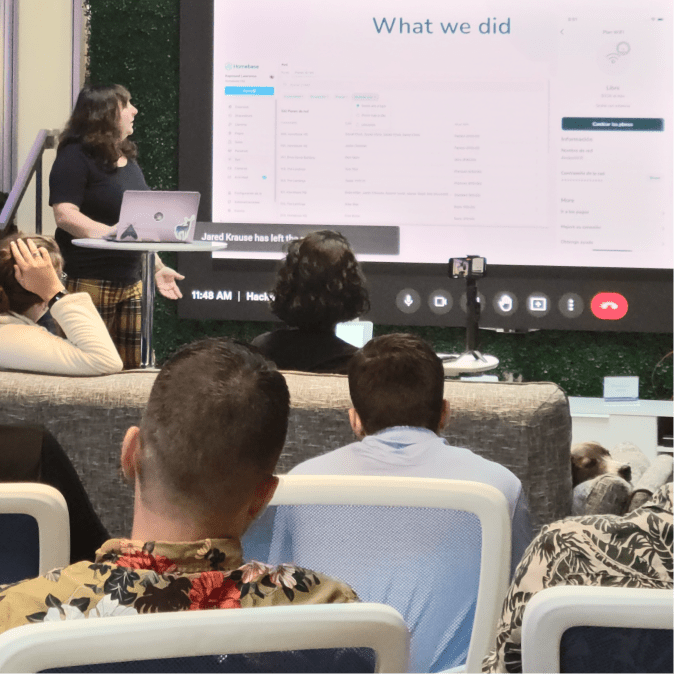 Team lead, Ailea Patrinely, presents the solution for Team en Espanol on Hackathon demo day.
Ailea Patrinely | Team en Espanol: Spanish Language Support
Homebase is used around the United States by many individuals who don't speak English as their first language. Ailea's team worked to ensure our app includes everyone by implementing language localization. With their efforts, our app will not only support the Spanish language but many other languages as we go global.
What challenges did your team encounter?
One of our biggest challenges was scaling back our project and determining which feature would be best for showcasing the localization. Another big challenge was the organization of our language keys. We needed to design an organizational structure that would be easy for anyone to understand and implement regardless of experience or position.
What was the best part of the process? 
I really enjoyed the opportunity to learn about something new and work more closely with coworkers with whom I don't usually collaborate. I also appreciated that when I started struggling my team pulled together to support me. It's often hard to lean on your coworkers, but my team showed me caring and concern that I hadn't expected. It made me respect them that much more.
Lindsey Riley | Team VaCANt Unit Automations
Lindsey's team worked to increase the efficiency of our existing vacant unit automations. This will allow property staff to save energy and money.
What challenges did your team encounter?
As with any hackathon, time is not on your side! We chose a project that might not have been as development-heavy as some others, but marketing a small but powerful feature can be tough!
What was the best part of the process?
The office energy and friendly competitive vibes were infectious. Team members put on hats that may have been new, saw the 'day in the life' of other departments, and came together to create features that will improve the future of living.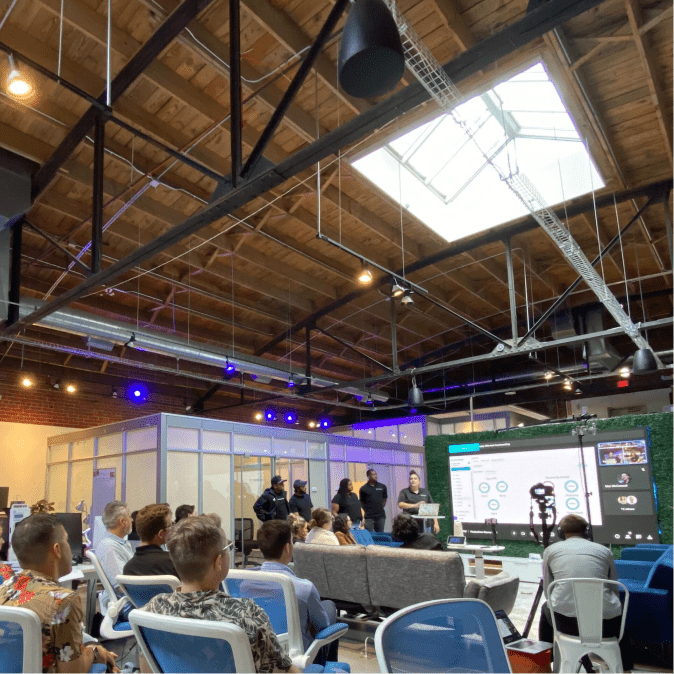 Team To Chell with It presents their streamline solution for asset tracking and analytics.
Rhianna Weilert | Team Multi-Use
Rhianna's team set out to analyze an important question that will allow Homebase to expand its customer base and be more inclusive: How can Homebase work well in residential buildings and commercial and mixed-use developments?
What challenges did your team encounter? 
The biggest challenge was right-sizing solutions that could be completed in one week. Though we were reimagining elements of our product beyond its current resident-only use case, we managed to hold on to the basic framework of the current product with a slight pivot to these new customers.
What was the best part of the process? 
The best part of the hackathon was getting an opportunity to dig deep into a specific problem and develop a solution using the design thinking process. This is a common approach to solving problems using 6 phases: empathize, define, ideate, prototype, test, and implement. I am confident the end result was stronger because this design thinking approach keeps the end-user in focus throughout the entire process.
Sam Jones | Team EV Charging
Sam's team focused on building a sustainable future by integrating with an EV charging station company. This will become an exciting addition to Homebase's offerings, an improvement to resident experience, and a new revenue stream for properties.
What challenges did your team encounter?
Our biggest challenge was finding an EV charging company to partner with. We weren't able to have all those conversations and agreements in 6 days. Tony and Michael were able to build the integration, but we needed more information from the actual charger company to complete it.
What was the best part of the process?
The best part was getting to work with people I don't usually work closely with and gaining a greater understanding of their contribution to Homebase. I knew the Development Team was the engine that makes this run but listening and learning was a huge benefit.
Collaboration Inspires Innovation
We know that the most innovative solutions arrive through the alchemy of collaboration. To hear the best ideas, it is essential to create space to hear the voices of the whole company. 
Our hackathon allowed us to do that by giving every employee the opportunity to be a leader. Empowered employees create powerful solutions, and now we've got six exciting product developments on the horizon!