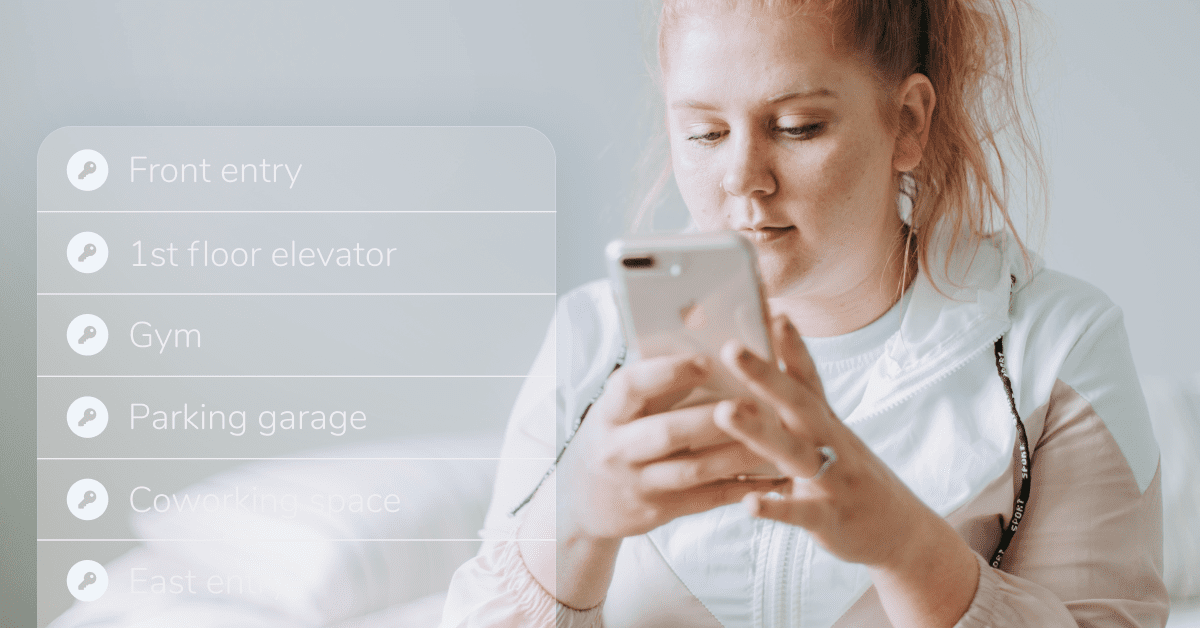 Security is one of the largest factors in a renter's decision on choosing an apartment. Study after study after study has shown that residents value security amenities over almost everything else. It's one reason why more multifamily properties are adding smart access control systems in their communities.
There are dozens of smart access control (also called cloud access control) systems on the market today, from the relatively simple to the far-out futuristic.
Access control is a major investment for multifamily properties, so it's important to know which questions to ask. Here are the most important considerations when choosing a smart access control system.
1. What do residents want?
There have been numerous studies in recent years that confirm residents care about security first and foremost. In 2018, a study from Apartment Guide and RentPath found that gated access was the most desirable amenity, even more than hardwood floors and a rooftop terrace.
A separate study from Softwareadvice.com found that among smart home amenities, smart video monitoring was the most coveted by residents. The second most desired amenity was smart locks.
Not surprisingly, security is also the top amenity in student housing. No matter how you slice it, security is top of mind for residents.
2. What are my competitors doing?
While smart access control systems have gained popularity in recent years, the vast majority of multifamily properties still use traditional systems with physical locks and keys. That means there is a gap between what residents want and what properties are providing.
This presents a great opportunity for forward-thinking properties to stand out from their competitors. Not only does cloud access control deliver the security that residents desire, but it does so in a sleek and convenient way.
3. What are the benefits of a smart access control system?
Smart access control systems are more than just high-tech amenities to bolster marketing brochures (though they do that as well). They offer tangible benefits for both residents and the property.
Better Security.

With real-time video monitoring and gated access at every door, cloud access control systems make it easier for properties to provide better security without the hassle or inconvenience of traditional systems. Residents have more control and transparency over their home thanks to in-app access to their smart lock's activity log. Plus, there are no more 4-digit access codes floating around.
Resident Convenience: In-Home Services.

Residents want to order

in-home services

like grocery delivery and dog walkers. With smart access control systems and

smart locks

, they can do this without sacrificing security. Service providers receive one-time access codes to enter the property and the unit, which expire in a designated time frame.  
Resident Convenience: No physical keys.

Residents hate physical keys. It's just one more thing that can be lost or forgotten. Cloud access control systems allow residents to go keyless by giving them Bluetooth access to their units through smartphones.
Digital maintenance keys.

With traditional access control systems, managers have to hand out physical keys to service staff for in-unit maintenance. With smart access control, managers can assign one-time access codes remotely. Service staff members can make multiple maintenance calls without ever coming into the leasing office, saving staff time and the property money. It's a win-win.
Access control for common areas.

Cloud access control systems allow property managers to manage common areas remotely. They can schedule access times to limit the hours social amenity spaces are available.
4. What are the drawbacks of smart access control?
Critics of smart access control systems say they are less secure than traditional systems because they are connected to the internet.
While cybersecurity is a serious concern for all Internet-connected systems, properties can mitigate much of the risk by choosing the right building operating system. Your operating system (the networking infrastructure that connects your smart building) will determine the security level of your property.
5. What is the ROI of smart access control?
Numerous factors that go into calculating the ROI of smart access control systems. Aside from resident demand, properties should also consider the following variables:
Rent premium

for smart access control (Upwards of $33.52 according to

Apartment Guide

).

Cost of rekeying locks

for lost or stolen physical keys.

Time spent

by service staff traveling back and forth from the leasing office to collect physical keys for maintenance trips.

Money saved

from minimizing theft and damage by controlling access to common areas.
6. Who is the best provider for access control?
With numerous options available, every property will come to their own answer to this question. However, we recommend thinking through the following criteria when choosing an access control system:
What is the cost per door?

Does the service provider just do access control, or is their service connected to other smart apartment services like locks, thermostats, and wifi?

Does it connect to your smart apartment operating system?

How does the provider

secure the network?

How does the provider ensure

resident privacy?
Getting started with Smart Access Control
Smart access control systems are a big investment, and one you shouldn't take lightly. However, for the properties who choose the right system, the benefits significant. Smart access control gives residents the security they need and the convenience they want, while making properties easier to manage.
If you have more questions about cloud access control, our experts are standing by. Chat with us today or request a demo to learn more about the Homebase smart apartment operating system.