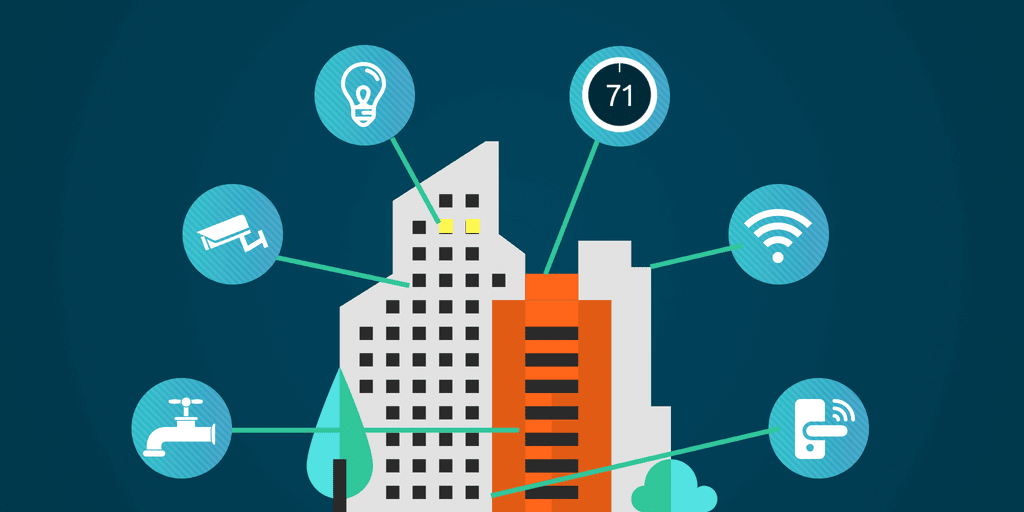 Many property developers see building automation as prohibitively expensive for small and mid-size buildings. However, thanks to rapidly improving IoT technology, building automation is becoming more feasible for developments of all sizes. This is excellent news for multifamily buildings in particular, who are facing more competition than ever before and need every advantage they can find
As a new technology, there are still many questions about building automation, how it works, and why it's beneficial. We'll answer each of these questions and help you decide if building automation is right for your development.
What is Building Automation?
Building automation allows management to remotely monitor and optimize a building's systems, including HVAC, lighting, and plumbing. Building automation systems (or BAS) are powered by sensors, controllers, and network infrastructure installed throughout the building and managed from a single application. BAS's can also include a building's safety and remote access systems.
The first generation building automation systems are costly, ranging from $2.50-$7.00 per square foot. That means a 100,000 square foot building could expect to pay at least $250,000 to install a traditional BAS.
However, IoT technology has made new, cloud-based building automation systems affordable even for small buildings. Using inexpensive smart sensors connected over a low-power Bluetooth network, IoT-powered BAS's can be installed onto existing building systems. This removes the need for expensive, specialized hardware and installation.
According to Intel, adding IoT-based controls and systems to a building can cost as little as $5,000-$50,000 per building. That means buildings of all sizes can expect to see a faster ROI and more savings over the years.
Smart Building Software
Smart building software is another force driving down the cost of building automation. The first building automation systems relied on complex protocols like BACnet to connect and control the building systems. BACnet is still widely used today, but expensive to install and maintain. Software updates or adding new equipment requires specialized support.
Thanks to platforms like Homebase, it is easier than ever to onboard new connected devices and control them from a single dashboard. In multifamily buildings, smart building technology can also serve as the community management hub. Property managers can automate things like maintenance, access control, and climate control in vacant units.
Benefits of Building Automation
The benefits of building automation have been unattainable for small and mid-size buildings for a long time. Installing a building automation system required a certain amount of scale– usually over 100,000 square feet– to see a return on investment in a reasonable amount of time. But all buildings can reap the benefits now that prices are dropping, and many are jumping at the chance.
There are three key benefits to building automation: Cost savings, optimized management, and data.
Cost and Energy Savings
The goal of any building manager is to ensure occupants are comfortable, safe, and happy in their building. Climate and utilities play a significant role in this, but most buildings are incredibly wasteful. Buildings account for over 40% of total energy usage in the US and EU, but almost 30% of that energy is wasted. Building automation systems help managers optimize utilities to save money and keep occupants happy.
Smart building systems learn to regulate utility usage based on factors such as time of day, outside temperatures, and occupancy. For example, intelligent HVAC systems will use outside air to cool the building whenever possible, and occupancy sensors can regulate light usage throughout the building.
The cost savings can be dramatic. The ACEEE predicts energy-efficient smart building technology will save the commercial building market over $50 billion. This equates to tens of thousands of dollars per building per year, and even more for buildings over 100,000 square feet.
Optimized Management
Building automation also makes it simple to manage building systems. The health and performance of building systems can be monitored from a single dashboard, automatically alerting management when there is a problem. For example, sensors will alert maintenance about a leaky pipe before it causes severe damage.
Traditional HVAC systems are made up of several smaller AC units, one for each space in the building. With building automation, these smaller units are replaced by one or two large units that are regulated locally in each room, simplifying maintenance and reducing wasted energy.
IoT-powered building automation can control traditional HVAC systems as if they were one unit. This dramatically reduced the cost of installation while providing the same control.
From monitoring utilities to proactive maintenance, building automation systems help teams save money and time on activities that used to be manual.
Big Data Insights
Occupants and building systems generate mountains of data that can be used to improve building efficiency over time. Building automation systems use smart sensors and cloud-based storage to capture this data and deliver insights to the management team. For example, BAS systems measure occupancy levels and apply automated rules to optimize energy usage throughout the building.
Data allows a building to be managed as a single, cohesive system as opposed to a collection of separate systems. Eventually, this system could scale to include a city block, neighborhood, or even an entire city. The foundation of a smart city will be building automation systems in each development.
Challenges of Building Automation
Like any new technology, building automation systems still have challenges that developers need to understand and plan for.
Upfront Cost.

Building automation is an investment that some developers are reluctant to make. Even with new IoT-powered building automation systems, installation will likely cost tens of thousands of dollars. Building automation is often the first thing cut from the budget, despite the benefits we cited earlier. Each project needs a building automation champion to ensure it makes it into the final plans.

Multiple contractors involved in installation.

Building automation is usually last on the list of priorities for developers. Because of this, installation happens in pieces, which each system installed by a separate contractor. Ideally, the BAS is installed by a single, specialized building automation contractor who can own the project and provide ongoing maintenance.

Cybersecurity.

With the move to cloud-based storage and low-power networks, cybersecurity has become a pressing issue. It is crucial for developers to work with an experienced building automation team that uses infosec best practices. It's not just building data at risk; it's occupant data as well, especially for multifamily buildings.
These challenges can be overcome by working with an experienced smart building contractor and IoT service provider. These vendors can help you develop a plan for budgeting, installation, security, and ongoing maintenance of your building automation system.
Getting Started with Building Automation
Despite the challenges, the properties that install building automation see immediate improvements for their occupants and staff. Thanks to IoT-powered systems, property owners will see ROI faster than ever, sometimes in as little as one year. With new smart building software, building automation systems have become platforms for future technologies and a means to future-proof your building.
Building automation can seem daunting, but you don't have to tackle it alone. Working with an experienced vendor will make your life easier and ensure you get the most out of your building automation investment. Our smart building experts are ready to talk if you have any more questions.
Want to dive deeper into building automation? Check out our article on the key technologies found in building automation systems.