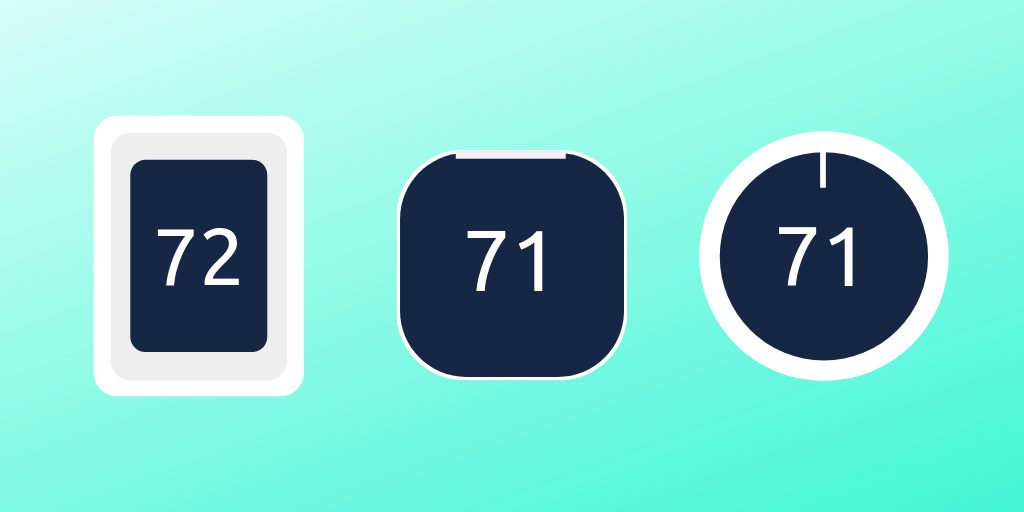 Are you building a smart apartment community? If so, you're probably spending a lot of time thinking about thermostats. The vast and ever-growing smart thermostat market can be tough to navigate, and maybe it's keeping you up at night.
But have no fear! We're here to help you decide which smart thermostat is right for your multifamily property.
In this Smart Spotlight guide, we're going to review three of the most popular smart thermostat brands: Ecobee, Nest, and Honeywell. We'll look at six devices in total, giving you the details you need to make a smart decision.
But first, what factors make a smart thermostat suitable for multifamily?
Smart Thermostat Factors for Multifamily
Do you consider smart thermostats a cost or an asset?
Believe it or not, smart thermostats can be more than just expensive line items to fill a marketing brochure and website. They can provide real value by helping properties save time, save money, and improve the resident experience.
It starts with choosing the right thermostat. Property managers and owners should focus on these three factors when evaluating devices:
1. Price
Smart thermostat prices can range from $100 to $300. While cost is a factor for single-family homeowners as well, it's a much bigger deal when buying hundreds of devices for an apartment community. Some thermostat brands make models designed specifically for multifamily and commercial properties that are both robust and cost-effective.
Note: In this article, we share mostly retail prices that are readily available online. Wholesale prices may vary based on order size and service provider.
2. Aesthetics
Many property owners—and residents as well—like smart thermostats for their sleek, futuristic look. Nest started the thermostat design revolution back in 2011, but Ecobee and Honeywell have since developed equally-beautiful models.
3. Compatibility: Smart Apartment Infrastructure
Multifamily properties have different needs than single-family homes when it comes to smart thermostats. For example, homeowners might consider compatibility with their preferred voice assistant. Multifamily properties should think about compatibility as well, but on a much larger scale.
Instead of compatibility with a voice assistant, multifamily properties need a smart thermostat that integrates with the rest of their smart building tech. Managing devices at scale will help properties save time and money, as well as provide a better resident experience like seamless onboarding/offboarding.
To achieve compatibility, properties need to choose the right building operating system along with the right thermostat.
Learn more: Investing in Smart Apartment Tech? You Need an Operating System
Comparing Smart Thermostats: Ecobee vs. Nest. vs. Honeywell Smart Thermostats
Now let's get into the details. We're going to look at six popular smart thermostat models and compare them across the three factors we outlined in the last section.
Our contenders are:
Ecobee
Nest
3rd Generation

Nest Thermostat E
Honeywell
The Ecobee3 is the Ecobee's best-selling thermostat to date. It's the device that propelled the company into contention for the smart thermostat throne. Sleek, powerful, and moderately priced, the Ecobee3 is a popular choice for multifamily properties. Plus, with the Ecobee4 now on the market, you can get the Ecobee3 at an even steeper discount. The older device still provides all the functionality you need in a smart thermostat.
Note: There are now two models for Ecobee3 – the original version and Ecobee3 lite. The stats below are for the original version.
Price
Originally $199, prices are now in the $130-150 range depending on the outlet (retail).
Aesthetic
Sleek, mono-surface design with an easy-to-use interface.
Compatibility
The Ecobee3 integrates seamlessly with smart building operating systems like Homebase.
The newest model from Ecobee comes with an upgraded look and even more powerful features. Built-in Amazon Alexa turns this device into a secondary voice assistant. It's understandably more expensive than its predecessor, but the Ecobee4 is the best-designed Ecobee to date.
Price
Starting at $199 (retail)
Aesthetic
Beautiful new design with a distinct bezel around the outside of the device. The Ecobee4 has a bar of colored light across the top that activates when using Alexa.
Compatibility
The Ecobee4 integrates seamlessly with smart building operating systems like Homebase.
Honeywell has long been a leader in commercial heating and cooling devices, giving them the advantage of experience and expertise. The T6 Pro is the most affordable thermostat on this list but still comes with the robust features needed in the multifamily environment. The T6 Pro is the commercial version of Honeywell's popular T6 consumer model and is only available through certified Honeywell resellers.
Price
$125-200 (wholesale; depends on order size)
Aesthetic
Looks similar to a traditional thermostat but with a sleeker frame and more user-friendly interface.
Compatibility
Unlike the T6 consumer model, the T6 Pro integrates seamlessly with smart building operating systems like Homebase.
The T9 is one of Honeywell's newest models, and frankly, one of their best-looking thermostats. It separates itself from other smart thermostats with a long, rectangular body and clean user interface. The T9 is sold for retail and wholesale.
Price
Starting at $199 (Retail)
Aesthetic
Much more sleek and modern than the T6 Pro. The long, rectangular design makes it stand out on a wall, especially compared to the square T6 Pro. Includes an upgraded, smartphone-like user interface.
Compatibility
The T9 integrates seamlessly with smart building operating systems like Homebase.
While Nest remains the most recognizable smart thermostat brand, they no longer dominate the market like they used to, especially in multifamily. Purchased by Google in 2014, Nest does not integrate easily with other smart building systems. This makes compatibility a major issue.
The Nest 3 is also the priciest model on this list—another tough pill for multifamily owners to swallow. Still, the device's iconic design and name recognition make it a popular choice among property owners and residents alike.
Price
Starting at $249 (retail)
Aesthetic
Iconic design with a rotating wheel around the edge and a clean, glass interface. The 3rd Generation Nest comes in 7 color varieties.
Compatibility
Nest thermostats integrate seamlessly with Google Home, but that's about it. Compatibility with smart building systems is a challenge, which means properties have to either a.) pay extra for a custom solution built for Nest, or b.) keep their Nest thermostats disconnected from the rest of the building.
Nest's newest device, the Thermostat E, is a more affordable version of the Nest 3rd Generation. It offers a limited interface and a stripped-down design. It's still a great-looking device, though, and a fine choice for price-conscious Nest enthusiasts.
The Thermostat E has the same compatibility issues as other Nest devices. This makes it less than ideal for the multifamily environment.
Price
Starting at $169 (retail)
Aesthetic
Simplified and less elegant than the Nest 3rd Generation, but still well-designed and easy to use. The interface has much less functionality compared to its pricier counterpart.
Compatibility
The Nest E has the same compatibility problems as the other Nest thermostat. Property owners can choose to either spend money on a completely customized solution or deal with a building full of disconnected smart devices.
Beyond Thermostats: Benefits of a Smart Building Operating System
There's more to choosing a smart thermostat than just picking a brand and model. Equally important is how you plan to connect and control the devices. For that, we highly recommend that multifamily properties start with a smart apartment operating system.
If you think of smart buildings like a smartphone, then thermostats are just a single app that can be installed. Like smartphones, smart buildings need an operating system to run all their "apps," including thermostats, smart locks, and digital in-home services.
A smart building operating system makes it possible to manage smart thermostats at scale. It gives managers admin-level control over all devices on the property. Managers can onboard/offboard residents, control climate in common areas and vacant units, and track energy usage from a single dashboard.
Other benefits include:
Uniform app and dashboard interface.

No matter which thermostat you choose, managers and residents will always have the same experience on their phone and computer. The OS creates a uniform user interface for all devices.

Mix and match thermostats.

If you choose to upgrade your property in phases, you can install different models of thermostats—even from different brands—and the devices will still connect seamlessly.

Expert IoT support.

Unless you hire in-house IoT experts, you're likely going to need help setting up and managing your smart property. Companies like Homebase provide the smart building operating system, as well as expert managed services to keep things running smoothly.
Smart thermostats can be more than a one-time cost for your community. With the right operating system, they can provide real value by helping you save time, save money, and give residents an experience they will never forget.
Learn more: Investing in Smart Apartment Tech? You Need an Operating System