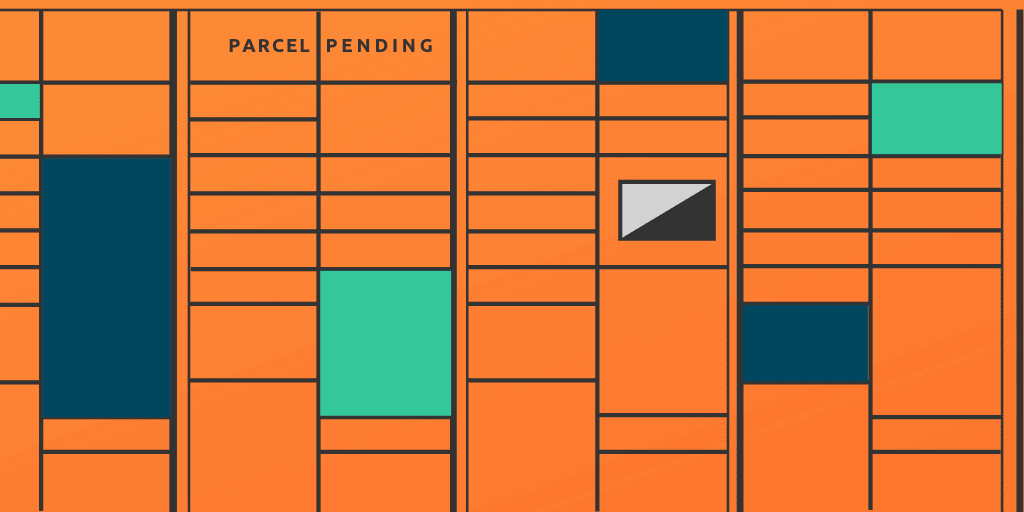 Are resident packages spilling out of your leasing office and cluttering your hallways? Multifamily communities around the country are reeling from the explosion of home package delivery, and it's not going to slow down any time soon.
Luckily, technology companies around the world are stepping up to solve the problem. One of the leading brands is Parcel Pending – a smart package locker service.
In this edition of the Spotlight Series, we're going to take a deep dive into Parcel Pending and help you evaluate it for your multifamily property.
What is Parcel Pending?
The average multifamily community receives 150 packages a week. That number almost doubles during the holidays. Property managers are eagerly seeking out new solutions to solve this ever-growing problem.
That's where Parcel Pending comes in. As a smart package management system, Parcel Pending handles deliveries with self-service lockers for residents and delivery people.
It works like this: When package couriers come to the property, they use the system's touchscreen to find the resident and open a locker. They insert the package into the locker and shut the door. Then the resident receives a notification that a package has been delivered, along with a unique code to access the locker. They plug in the code and retrieve their package. It's as simple as that.
Locker Models, Sizes, and Other Products
Parcel Pending, like other smart locker systems, is modular, which allows you to mix and match different setups to suit your needs. Properties can have as few as six lockers, and there is virtually no upper limit. Each system starts with a single tower that includes a touchscreen, and then additional towers are added as needed.
Properties also have the option of outdoor and refrigerated lockers. The outdoor towers are more durable and come with a rain shield. Refrigerated lockers are perfect for grocery delivery, sensitive pharmaceuticals, and other packages that require refrigeration.
Lockers come in multiple colors. Properties can even customize them with branded wraps, such as these lockers at ADIDAS headquarters:
Management Tools
Parcel Pending systems are built for property managers just as much as residents. They include several management features, including infrared sensors inside each locker that tell managers which units are in use. The systems also come with an analytics dashboard that provides insight into how the lockers are being used.
Parcel Pending Mobile App
One differentiating feature of Parcel Pending is their resident mobile app. Residents can use the app the receive notifications, set vacation mode, view package history, and open lockers without inputting a code. The app also comes with an open API, allowing property management companies to integrate Parcel Pending directly into their existing apps and systems.
Parcel Pending Cost
Smart package systems are a significant investment for properties, costing tens of thousands of dollars depending on the setup.
However, for those who don't want to pay for the lockers upfront, Parcel Pending offers a couple of different options:
Lease Lockers.

Properties can lease a Parcel Pending system instead of buying them. They pay a monthly maintenance fee, and renters pay a monthly subscription fee as well.

Payment Plan.

Parcel Pending offers 3-year financing on package management systems, making the cost a little more manageable for budget-tight properties.
There are other ways to justify the upfront cost as well. Many properties choose to charge a small monthly fee for the use of the lockers. For example, Ardendale Oaks in Baton Rouge, Louisiana charges $3.99/month.
Benefits of Parcel Pending
Parcel Pending is one of the leading smart locker management systems in the country thanks to their robust technology and reliable customer support.
There are numerous benefits to adopting a smart package management system, including:
Less Work for Property Managers
PMs and leasing agents spend several hours each week managing packages. That time is better spent selling leases and engaging current residents. Parcel Pending takes package management off the plate of property managers so they can focus on more important tasks.
Higher Resident Satisfaction
Package delivery is one of the most desirable apartment amenities today. Residents love that they can retrieve their package when it is most convenient for them, and they don't have to worry about it being stolen from outside their door. Higher resident satisfaction ultimately leads to lower turnover.
Increased Revenue
While some properties offer Parcel Pending as a free service, others charge a small monthly fee. Either way, smart package systems help properties earn extra revenue, either through premium rents or monthly subscription fees.
Risks and Drawbacks
Like any technology, smart locker systems like Parcel Pending have a few drawbacks:
Upfront Investment
Smart package lockers can cost thousands of dollars if purchased upfront—a price that will take properties some time to recoup. However, Parcel Pending is unique in that offers the option to rent or finance the purchase.
Cost to Residents
Adding an expensive amenity like smart lockers will likely lead to higher costs for residents, either in the form of rent or monthly fees. Many residents believe the additional cost is worth it, but a few will not want to make the switch when package management was previously free.
Space for Lockers
Properties with small lobbies or no lobby will have a hard time finding space for a Parcel Pending system. The outdoor models certainly give properties more flexibility, but it might still be a challenge to find space if your property wasn't built with lockers in mind.
Security
Every Internet-connected device runs the risk of cybersecurity breaches, and this may deter some people from choosing Parcel Pending. However, compared to leaving packages outside a resident's door (where millions of packages are stolen each year), smart lockers are extremely secure.  
Despite these drawbacks, the benefits of smart locker systems far outweigh the risks. Properties can easily overcome the hurdles and create a higher standard of living in their communities.
Is Parcel Pending Right for Your Property?
Parcel Pending is a top-notch smart package management solution with tens of thousands of happy properties. Their lockers can compete with any other brand on the market, but where they stand out is their technology and financing options.
The company's mobile app makes it even more convenient for customers to manage their packages. The company's open API expands the possibilities for a fully-connected, smart apartment community.
Financing options are a big deal, too. Properties don't have to buy the system outright; they can either rent the lockers or set up a 3-year financing plan. These options make Parcel Pending more accessible to properties of all sizes.
There is fierce competition in the smart package management space, however. Be sure to check out our Smart Spotlight article on Parcel Pending's closest competitor, Luxer One.
Read More: Is Luxer One the Right Smart Package Locker for Your Property?
Whichever package management system you choose, your property managers and residents will thank you for putting their time and convenience first.