With the acquisition of Homebase by Quext, change has been brewing in our Kansas City office. We're comparing notes, combining resources, and sharing dreams. There is much to look forward to as we forge a comprehensive and cohesive product offering.
Every step of the way, customer feedback is top of mind. This fall, our product and development teams have concentrated on features that improve the Homebase experience for current and future customers. 
Here are some highlights to look forward to as we head into the chilly months.
As the temperatures drop, it will be easier than ever before for Homebase customers to keep their energy bills low with vacant unit thermostat automation. This new feature allows customers to select a temperature range for all vacant units.
We are also releasing a thermostat automation feature that will maximize energy efficiency in student housing by allowing properties to automate all thermostats to start the day at a preset temperature.
Next, customers can look forward to thermostat automation for shared spaces, like fitness centers and lounges.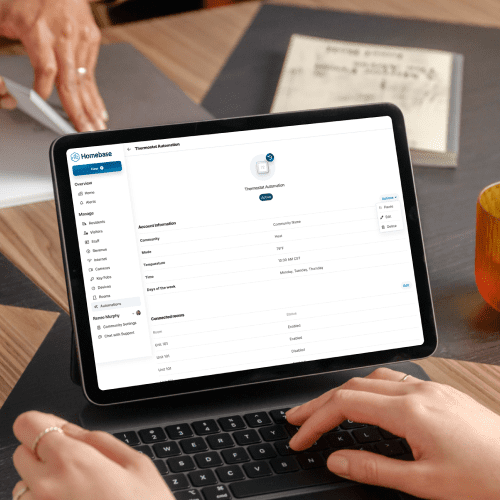 Realpage customers rejoice! We are finalizing our integration to sync data between Homebase and Realpage every 10 minutes. This means that property managers can add a lease in RealPage and it will automatically create a stay in Homebase. By tying their tools together, communities that use app-only access can manage their access entirely through RealPage.
Collecting payments is a necessary part of owning your WiFi network and with our new late payment automation it doesn't have to be a chore. 
We're introducing a late payment policy screen that allows residents to view their late payment policy. We're also adding more popups in the Homebase app when a resident is late to remind them to make their payments. Together, these updates will allow property management teams to collect payments more quickly and with less effort.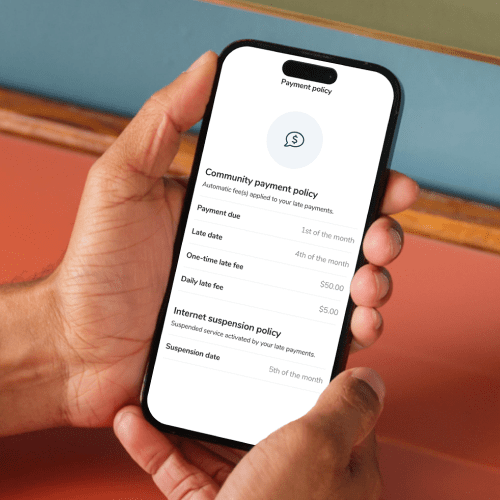 Upgraded Resident Onboarding
Thorough resident onboarding allows residents to settle into their new homes with less help from their property management team. This fall, customers can look forward to a fresh revamp of the resident onboarding experience.
When residents open the Homebase app before their stay begins, they will see a countdown until the start of their stay. They will also be able to sign up for WiFi and preview the list of locks and smart devices they will have access to once their stay starts.
Together, these updates will create residents who are prepared for a successful smart apartment experience.
Easy access to data about your community is important for metrics, maintenance, emergencies, and more. 
Our reporting feature enables properties to export important data, like battery status, resident lists, and lock activity into a CSV file.  In seconds, property managers can create a downloadable and versatile document and move on with their day.
We are reorganizing our menu to prepare for the future and make it easier to see important data. With the release of our new main menu, customers can view a new 'Home' tab with their dashboard, activity, reporting, and alerts. 
The 'Residents' and 'Stays' tabs have also been combined and several tabs have been renamed in preparation for future feature releases.
When exterior doors are left ajar, it can pose a real security risk for your apartment community. It's important to address the security breach as soon as possible, but what if your team can't always be onsite to monitor the doors?
As of August, we are offering door sensor integrations to safeguard your community. The door sensor device hooks into your Allegion RC card reader and sends an alert through Homebase Manager or an email when a door is left open for more than 5 minutes. This convenient feature makes it easy to keep your community secure so your team and your residents can rest easy.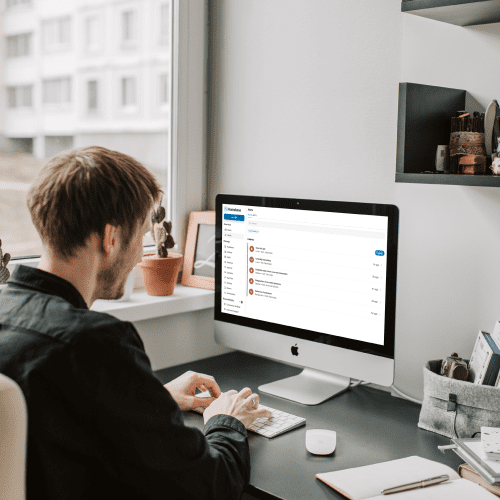 Depending on which smart locks you have on your exterior doors, Amazon Key could be a free way to improve your delivery process. Homebase is fully compatible with Amazon Key and we're prepared to guide you through the process of introducing this free upgrade.
Here's how it works. First, you'll install the Amazon Key device into your community's Brivo or Allegion RC access control panel. Then, delivery drivers will use their Amazon Delivery App to unlock the installed device. From there, they can deliver packages directly to residents' unit doors or place them in a secure package room.
While this upgrade is only effective for Amazon packages, it's an easy addition to reduce porch piracy. Since leaving packages by unit doors does not eliminate the possibility of stolen property, a secure Homebase Package Room is recommended to ensure your residents' orders stay safe.
More Innovation on the Horizon
As collaborate with our colleagues at Quext, more innovations and updates are on the horizon. We're ready to revolutionize the proptech industry with the most comprehensive smart apartment system on the market.
If you'd like to learn how easy-to-use and affordable smart apartment technology could fit into your community, let's chat!