Secure, digital access for prospective residents
Dodge the limitations of the 9-5 workday by enabling self-guided tours. Digital keys allow you to lease out your community more efficiently while maintaining security. With access to only the doors they need, prospects glimpse the full resident experience.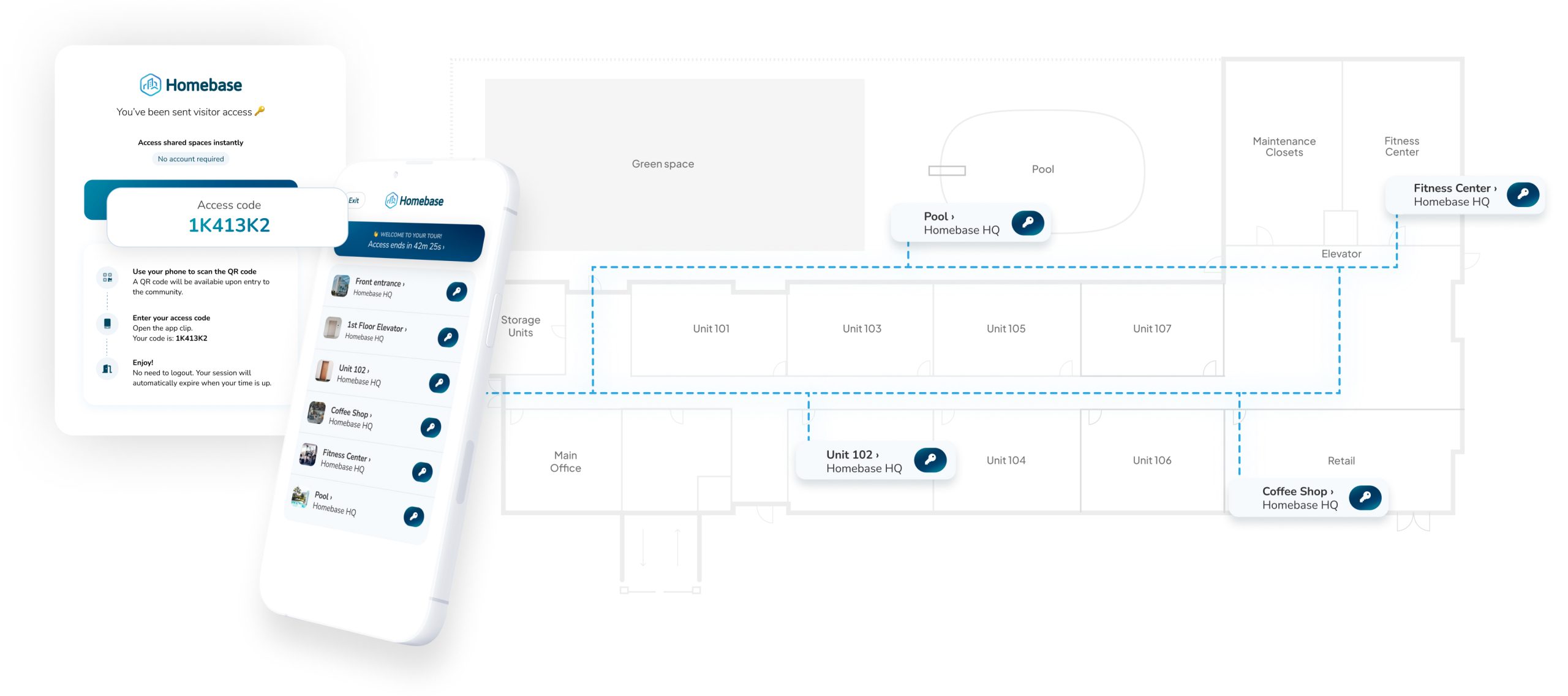 📱 Prospects input their unique code to access a customized list of doors for their self-guided tour.
🛏 Staff members easily grant access to the vacant unit prospects are interested in.
☕️ Add mixed-use spaces to the self-guided tour to highlight resident perks.
🏋️‍♂️ Share access to popular amenities.
⭐️ Give prospects a secure tour of multiple spaces without requiring staff to be onsite.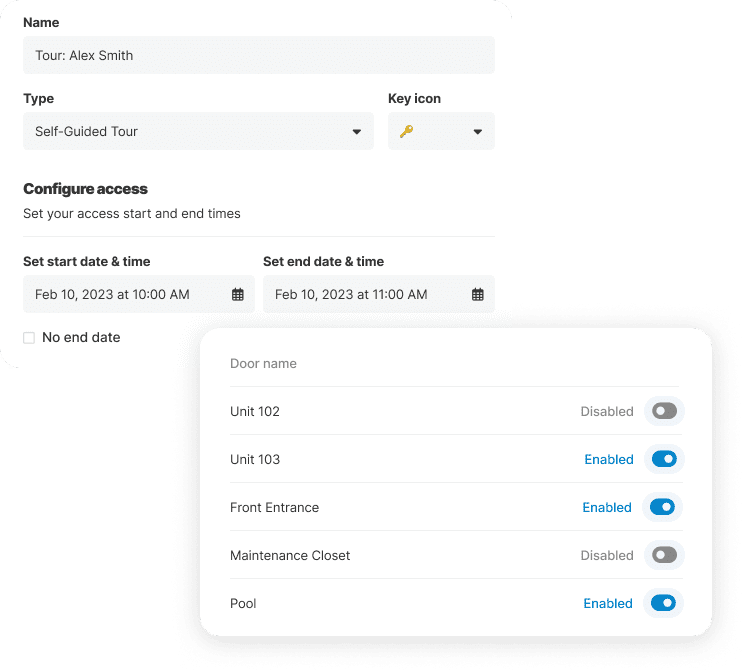 Customize access for self-guided tours
Set the self-guided tour start and end times in increments as short as ten minutes. Then, choose which doors prospects are able to access on their tour.
Send an invitation from anywhere. Homebase Web Manager generates a unique access code for each self-guided tour and allows staff to email prospects directly from Homebase Web Manager.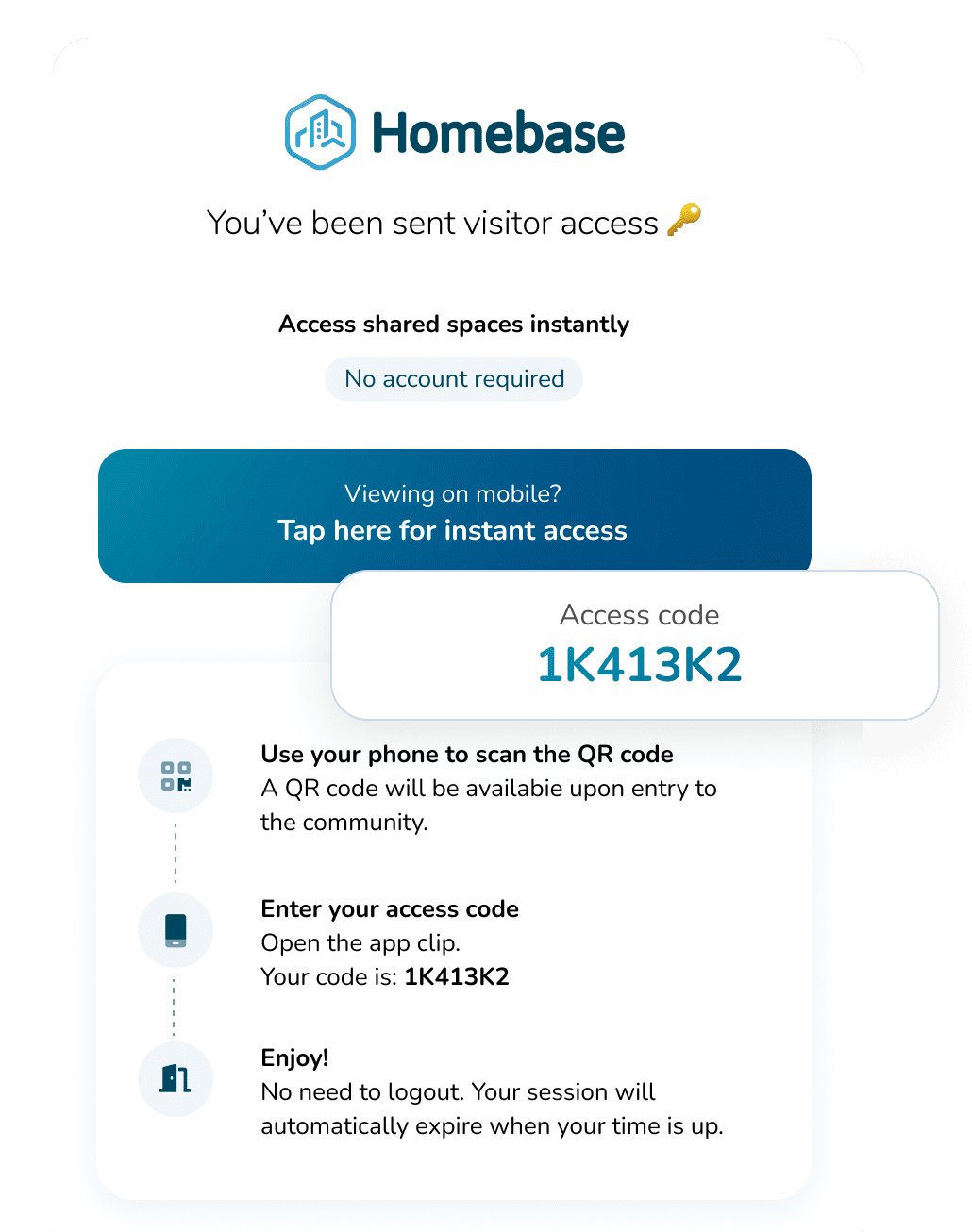 Enter your access code to get started
Without creating an account in the Homebase app, prospects input their unique access code to start their self-guided tour. Staff members receive notifications when codes are used so they can monitor prospects' progress.
Access every door on the tour with a tap
Each door that is configured for the tour is accessible once prospects have inputted their code. At the designated end time, access expires and the code is deactivated.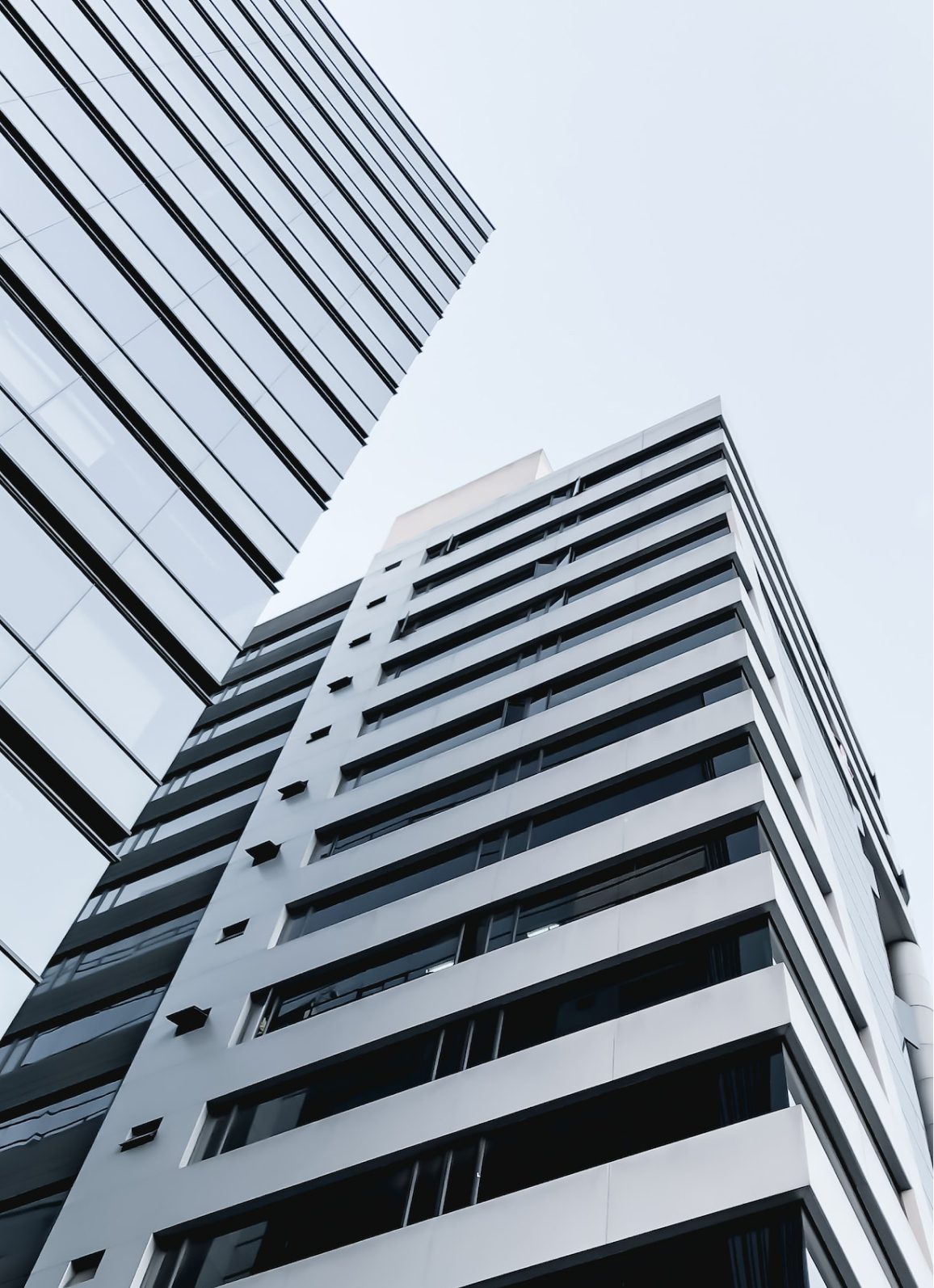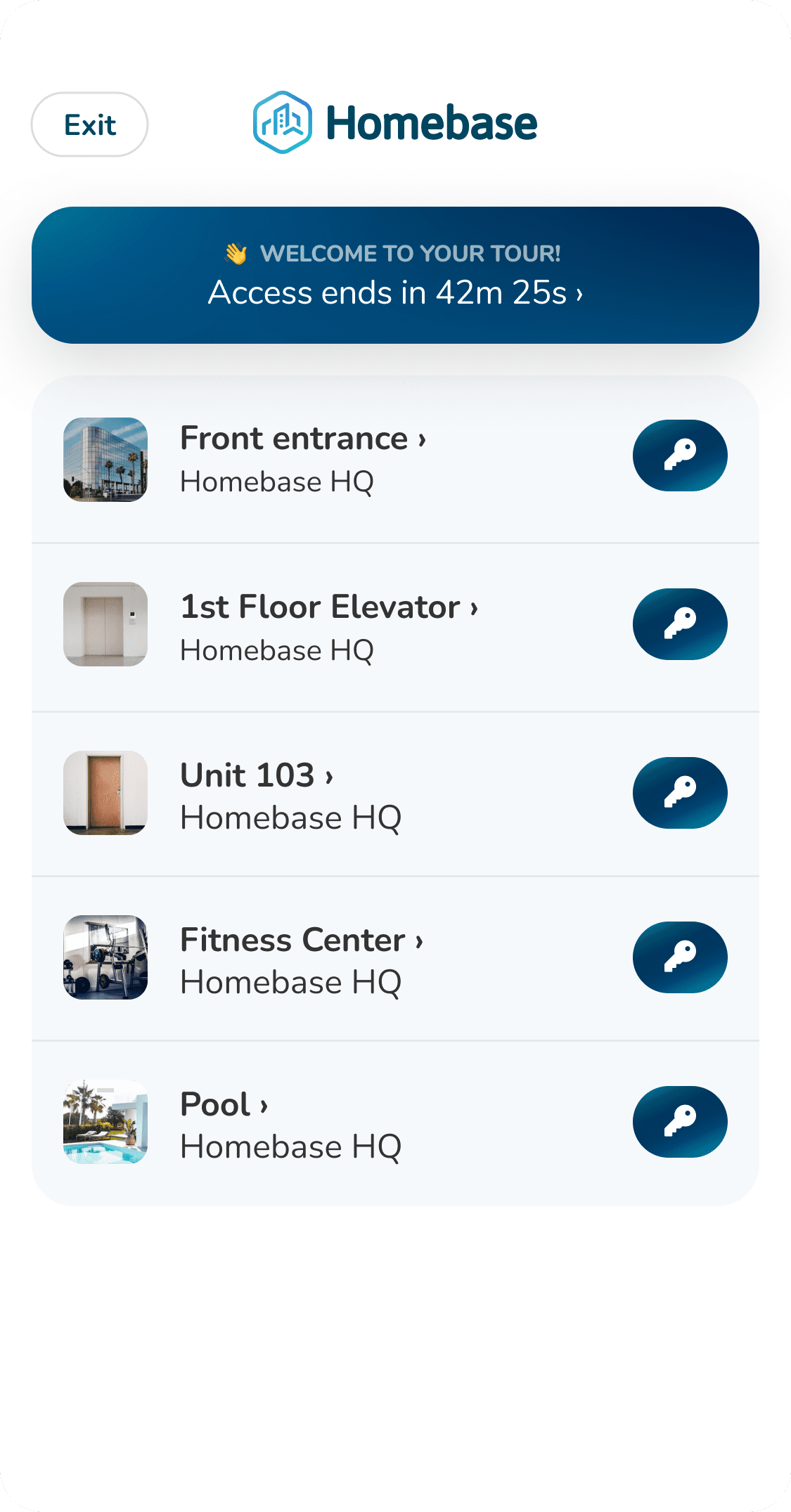 83%
Prospective residents that would readily make use of self-guided tour technology if it were available. *RentCafe/Yardi
Frequently asked questions
Staff members can send access to potential residents in a variety of ways, including an email directly from Homebase Web Manager, a scannable QR code, or by copying their custom access code into an alternative communication channel.
Yes, you can host more than one self-guided tour at a time with Homebase Visitor Access. Simply configure your prospects' tours with overlapping start and end times and enjoy more frequent tours and faster lease-ups.
Yes, you can manually disable access for a self-guided tour at any time. Homebase Web Manager allows you to specify the start and end times of the tour in increments as small as ten minutes. If you need to cancel the tour at any point, simply end access manually with a single click in Homebase Web Manager.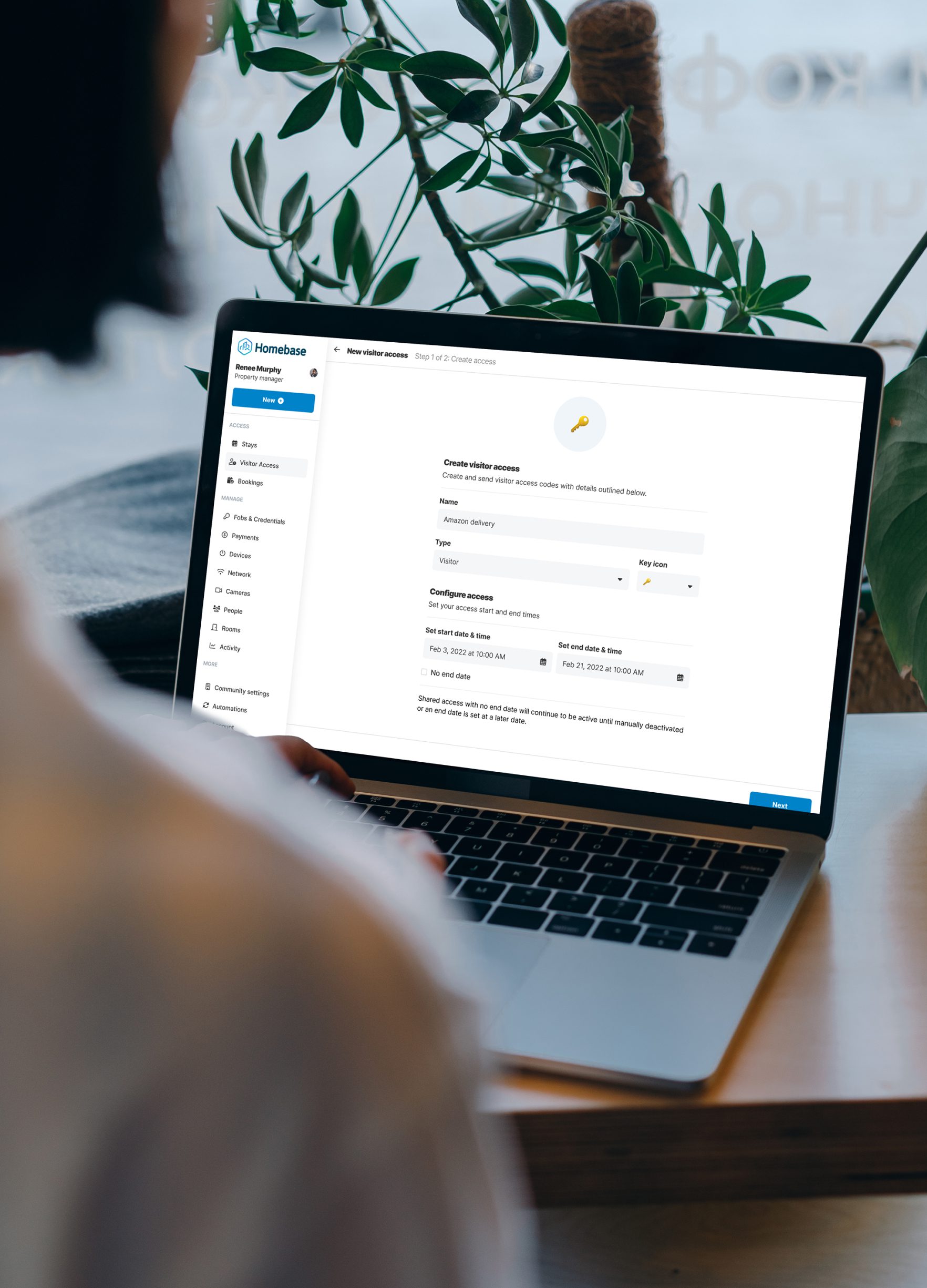 Schedule
your demo
Skip the wait and schedule a demo now with our Smart Building Specialists. Want more information? Leave us your details and we'll reach out to customize your Homebase experience.