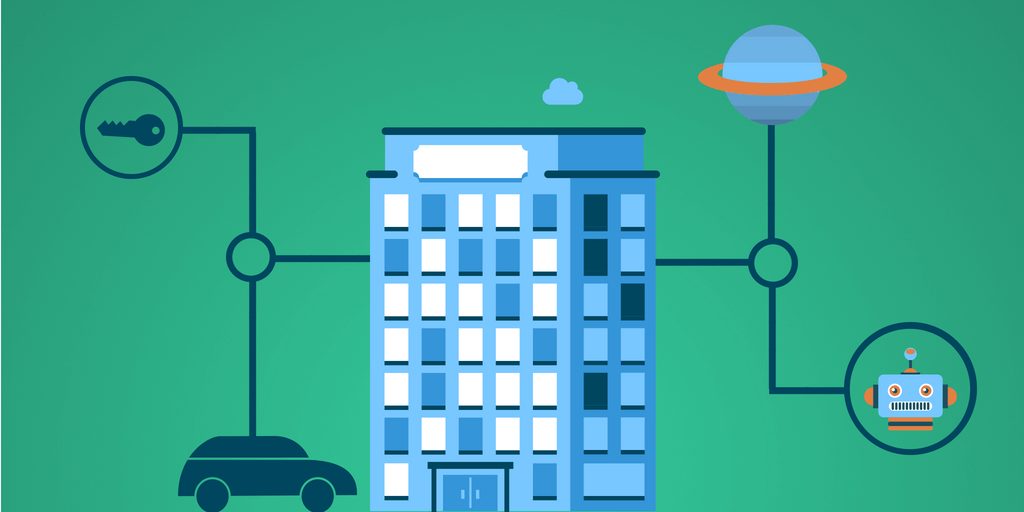 Updated July 12, 2019
Real estate is a long-term investment. Where most businesses barely plan past the upcoming quarter, real estate development companies are looking decades ahead. How will an investment today look 30 years from now?
This is part of what makes the idea of smart apartments so scary for some developers. Combining computer technology (known for rapid obsolescence) and real estate sounds like a recipe for disaster. How quickly will smart apartments become outdated?
We hear a lot about the need to "future-proof" buildings, especially smart apartments. To answer this question, we need to first look at the trends shaping the way we live. From there, we can develop principles to help us build the smart apartments of the future, today.
Long-Term Trends Shaping the Way We Live
We don't know what the future will bring, so it's impossible to anticipate all the needs of future residents. However, we can look at current trends and make a few assumptions:
What does all this mean for smart apartments?
For starters, it is not enough to just install smart devices in an apartment unit. These devices are the fastest piece of smart apartment tech to become outdated, plus they provide just a fraction of the total benefits. They may help you raise rents today, but they shouldn't be considered a long-term competitive advantage.
To future-proof your smart apartment building– and take advantage of the trends above– you need to build the right foundation.
Specifically, developers should follow 3 key principles when building smart apartments:
Start with infrastructure

Develop a hospitality mindset

Stay flexible.
3 Principles for Future-Proofing Your Smart Apartment
Instead of providing an exact blueprint for future-proofing smart apartments (which is virtually impossible), it's better to use these principles to guide your strategic planning.
Principle #1: Start with Infrastructure
Can you imagine using the iPhone without cell service or wifi? It would be less than useless– an $800 calculator with a flashlight.
In the same way, smart home devices are useless without network infrastructure. That's why the first step to future-proofing smart apartments is to build connectivity into the building.
Smart buildings connect automated building systems (smart HVAC, lighting, security and fire systems) with smart devices through internet and bluetooth connectivity. Wifi and bluetooth are literally built into the walls.
Without network infrastructure built into the building, smart devices lose much of their value. How effective would an energy-efficient building be if the HVAC and thermostats couldn't communicate? And it's not just devices; smart sensors also connect to the network and play the vital role of collecting building data.
Built-in infrastructure makes it easy to integrate future devices into the network. For example, the manager of a 10-year-old building might decide they need to monitor the plumbing for leaks and inefficiencies. Installing water sensors is as simple as mounting and plugging them in because they come pre-configured with your network access.
Smart Apartment Software
Now try to imagine an iPhone without iOS. You have the hardware and the network infrastructure, but without the software platform, the phone is still unusable. Even worse, imagine if each app you downloaded used its own operating system. You'd have to switch OS's every time you used a different tool.
Smart apartments are the same way. They need a single smart apartment software platform to connect data, devices, and management activities. This platform ensures that all devices, now and in the future, connect to the system and talk to one another. It also ensures that all data is stored in one place, knocking down the data silos found in traditional building systems.
Principle #2: Develop a Hospitality Mindset
Time is the new luxury, which is why the "As-a-Service" economy is so popular. Businesses are working to improve their customer experience. Smart apartments need to do the same.
Future-proofing isn't just about staying ahead of the tech curve. It's also staying competitive in the traditional sense. With more people than ever choosing to rent, residents are weighing their options carefully. If you don't give them the experience they're looking for, surely, another apartment complex will.
Developers and property managers need to shift from the "tenant/landlord" mindset to a hospitality mindset. How can you better serve your residents to make their lives easier?
More than ever, what residents want is convenience and accessibility. It's one reason why they rent in the first place. But smart apartments should do more. By providing Living-as-a-Service amenities, they can help to enhance the lives of their residents.
This level of service is one reason why renters prefer smart apartments in the first place. To stay competitive in the future, smart apartments need to listen to their residents and adapt to their needs. Which brings us to our final principle…
Principle #3: Stay Flexible
Renter preferences will continue to change and evolve. The key to future-proofing isn't building the apartment of the future; it's staying flexible enough to change with the times.
This is another reason why starting with infrastructure is so important. When new smart devices or on-demand amenities hit the market, it's much easier to plug them into an existing platform than to install brand new hardware and operating systems. Smart building infrastructure lets you take a modular approach to devices and services, swapping them in and out as demand changes.
One example is security. Home security systems are on the rise; the market is expected to pass $100 million by 2020. An apartment might not feel the need to install in-unit security systems today, but they might soon become a must-have amenity. With smart building infrastructure in place, these security systems can be quickly installed and connected the platform.
Future-Proofing Starts Today
Future-proofing your apartment complex doesn't require you to predict the future. Instead, you need to look at the long-term trends shaping our society and build the foundation to adapt over time.
It's critical to build the technical foundation of the smart apartment– the network infrastructure and connected building platform– and develop a hospitality mindset to serve your residents as guests. Most important, developers need to stay flexible and change with the trends through the years.
The principles outlined in this article are sure to set you on the right direction for future-proofing your smart apartment. The best time to start was yesterday. The second best time is now.