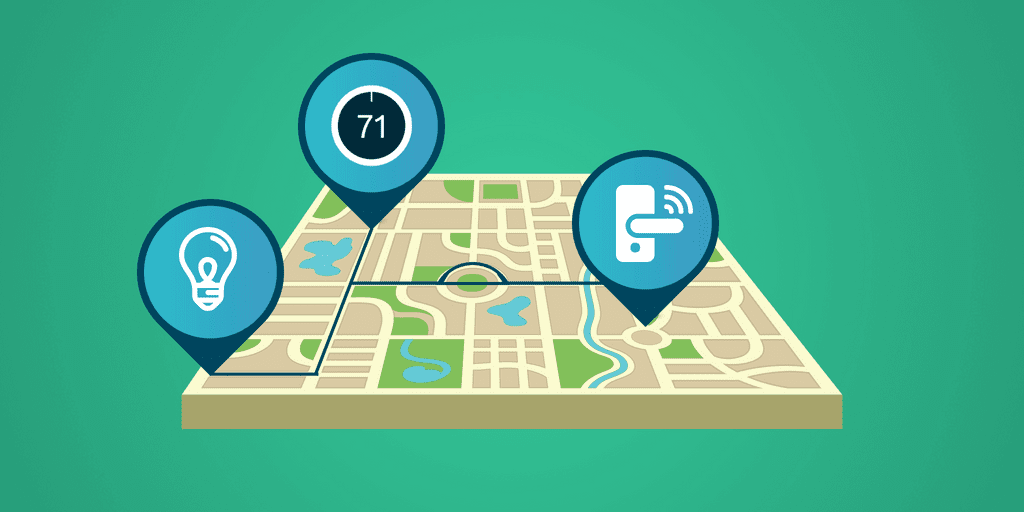 We are in a rental boom. According to Yardi Matrix, apartment construction is at a 20-year high with over 345,000 units built in the US in 2017. This is exactly the type of production we need if we are to meet the growing housing demands of the future.
More and more property developers are deciding to add smart home tech and smart building systems to their multifamily complexes. Smart apartments aren't just preferred by renters; they can also save property owners thousands of dollars a year. Smart amenities attract new residents today and increase the ROI of a property over time. It's a win-win.
Adding smart home tech to apartments can be daunting. Where do you even start? With dozens of device options in each category, it can be hard to know which tech will be worth the money.
At Homebase, we regularly help property owners navigate the smart home tech ecosystem. Let's look at each step so you can start to build your smart apartment strategy.
Step 1: Identify Your Priorities
There are many ways to build a smart apartment, but the one thing to never do is start without a plan. Without a clear set of priorities, you're bound to spend too much money and end up disappointed in the result.
If you're just starting to explore the smart home tech ecosystem, ask yourself these questions:
What are your business goals?

Smart apartments can save you money on utilities, increase retention, command higher rents, and make your staff more efficient. Depending on the challenge you're trying to solve, you can architect a smart apartment strategy to fit. For example, if your main challenge is resident churn, you might opt to include smart home amenities that are popular with residents.

What is your competitive advantage?

Take an audit of your direct competitors, the buildings around you that target the same type of resident (e.g. luxury vs. economy). Then choose how you're going to be different in order to compete. Are you going to make higher margins by saving on utility costs, or are you going to out-gun them with bigger and better amenities? This strategic positioning choice will determine where you invest your smart apartment dollars.

What is your Budget?

It's important to consider this before you get swept away in the excitement of smart apartment building. Depending on your budget, you can choose more economical devices or cut out features that aren't necessary.  

What are your "must have" features?

Some developers already know which features they want to include in their smart apartment buildings. Whether it's smart thermostats or automated maintenance tasks, take note of the features that are most important to you.
If you don't already know what features you want in your smart apartment, have no fear. The next steps will show you everything that's available today as well as what might be possible in the future.
Step 2: Explore the Benefits Available Today
Current smart apartments capabilities are already making a massive impact on both the resident experience and your bottom line. Depending on your priorities, you have a number of smart home tech benefits to choose from.
Cost Savings
Building automation software– including smart HVAC, lights and, thermostats– can help a 75,000 square foot building save between $10,000-$50,000 a year. And that's just the beginning of the cost savings for smart apartments. Smart sensors can warn you about potential issues before they get out of hand, like a small water leak or overactive air conditioning. Utilities can be controlled remotely from the management dashboard, giving you total control over your building.
Optimized Management
People will always be your greatest expense, but also your greatest asset. It's wise to help them be as efficient as possible. Smart apartments have a number of features that can streamline staff workflows, including team task management, automated maintenance tickets, and package management.
One of the most popular management optimization features is keyless entry for maintenance staff. Based on our experience, we find that staff members spend up to 40 minutes a day just collecting keys and opening units. That adds up to more than a dozen hours a month per staff member. With keyless entry, staff no longer have to hike back to the clubhouse; they receive a temporary e-key to access the unit. This also benefits residents who can view exactly when a maintenance staff member entered and left their unit.
Popular Smart Home Amenities
Already, studies are showing that renters prefer smart home amenities over traditional amenities like swimming pools. Renters' favorite devices are smart thermostats, smart lighting, video monitoring, and locks.
Other studies have found that renters (especially millennials) are willing to pay more for smart home amenities. And since we're still in the early stages of the smart apartment revolution, early adopters are likely to gain a first-mover advantage for at least the next several years.
In most cases, these benefits will overlap. For example, an optimized management team will save you money, and smart sensors will make maintenance's job easier. However, it's good to know which benefit matters most to you.
Step 3: Imagine the Possibilities of Tomorrow
More than any single feature or use case, smart apartments represent a new technology platform for innovators. By building smart apartment infrastructure today, you're paving the way for new tools, amenities, and benefits of the future. That means the most game-changing ideas have yet to be dreamt up.
When the iPhone was introduced in 2007, no one imagined companies like Uber, Instagram, and Airbnb would be the result. Where we are today with smart apartments is akin to the smartphone market 10 years ago.
There are already a few future technologies that really excite us. These could become major competitive advantages when they become available, especially for those who implement them early.
On-Demand Amenities
Just like the smartphone has enabled on-demand ridesharing, so too will smart apartment tech enable on-demand amenities like house cleaning and dog walking.
Imagine the hassle of trying to set up a dog walker today. How do you make sure the dog walker has a key? Do you trust this person to not snoop around your unit? How do you get the key back when they're done? How will they even get into your complex?
With smart locks and keyless entry, these problems cease to exist. By scheduling a dog walker through your resident mobile app, the person is given temporary access to your building and unit, all of which you can monitor through the app. When they bring your dog home, they lose access to your apartment until next time.
In all reality, on-demand amenities are already here. Property developers can start to implement some of these features today, but the best and most innovative on-demand amenities are still to come.
Incremental Revenue Opportunities
Let's look at the same dog walking scenario from before. Ask yourself this: How does the resident even learn about this service in the first place? Chances are they discovered it through your member dashboard, which means your property could earn a referral fee from the vendor. Revenue-sharing partnerships like this are bound explode as properties and vendors work together to serve residents.
Another revenue-generating opportunity is Wifi as a Service. Today, each resident has to set up their wifi through the ISP. This could mean going a few days without internet if they forgot to schedule an installation ahead of time. Wouldn't it be better if wifi "just worked" for residents as soon as they moved in?
That's the promise of wifi as a service. Instead of going through the ISP, residents sign up for an internet package directly through you. They can choose their bandwidth and how much they want to spend, and the property earns incremental revenue every month.
We are at the tip of the iceberg when it comes to new services and incremental revenue opportunities for smart apartments. The important thing is to build the infrastructure today so you can start offering these services as soon as they're available.
Step 4: Choose Your Tech
Once you've identified your priorities, explored current capabilities and imagine future opportunities, it's time to choose your smart apartment technology. As you have probably gathered from our conversation so far, smart apartments are more than just the smart home tech you find in units. There are three technology layers you need to install:
Network infrastructure.

To gain all the advantages of smart building tech, you need network infrastructure that connects all your devices together. Wifi connects all devices across the complex, while low-power Bluetooth networks connect in-unit devices together. Local Bluetooth networks make controlling devices within your units faster and not reliant on precious bandwidth. Wifi infrastructure also paves the way for Wifi as a Service in the future.

Smart Apartment Platform.

Just like computer hardware, your smart building infrastructure needs a software layer to tie it all together. Smart apartment platforms give management and residents one place to control the building and their units. It is also the key integration layer for most smart apartment features and amenities.

Smart Home Devices.

The last pieces are the smart home devices that will live in each unit. These units are networked into the smart building infrastructure and controlled by the software platform.
Choosing Your Smart Home Tech
When it comes to choosing smart devices, apartment developers have a ton of options. There are several factors to consider when choosing brands and devices, including features, pricing, aesthetics, and integrations.
Let's take smart thermostats as an example. Two of the most popular brands, Nest and Ecobee, have unique features and advantages. Nest is generally considered better looking (but to each their own) and they have the brand recognition with residents. They can also "learn" your habits, where Ecobee must be pre-programmed. However, Ecobee has a built-in Amazon Alexa feature that residents love.
Nest and Ecobees are both premium-priced options, so you could also choose a more economical model like the Honeywell Lyric. All these choices make it even more important to know your priorities (especially your budget) from the beginning.
Step 5: Choose Your Team
The last step of navigating the smart home tech ecosystem might be the most important: Choosing the right team for your project. It's highly recommended you choose an IoT Service Provider with experience in designing and building smart apartment infrastructure. There are few general contractors, if any, with the right experience or skill set to get the job done properly. Don't trust such a large and important investment to anyone but the pros.
Getting Started
Every smart apartment project starts with navigating the complex and growing smart home tech ecosystem. By following these steps and choosing the right team as a partner, your next project will go off without a hitch.
Take time today to begin your brainstorm. What is most important to you in a smart apartment? What features do you want today, and what amazing experiences can you imagine for tomorrow? Who else on your team needs to be in this brainstorming session with you?
If you have someone who comes to mind, share this article with them and start the conversation.