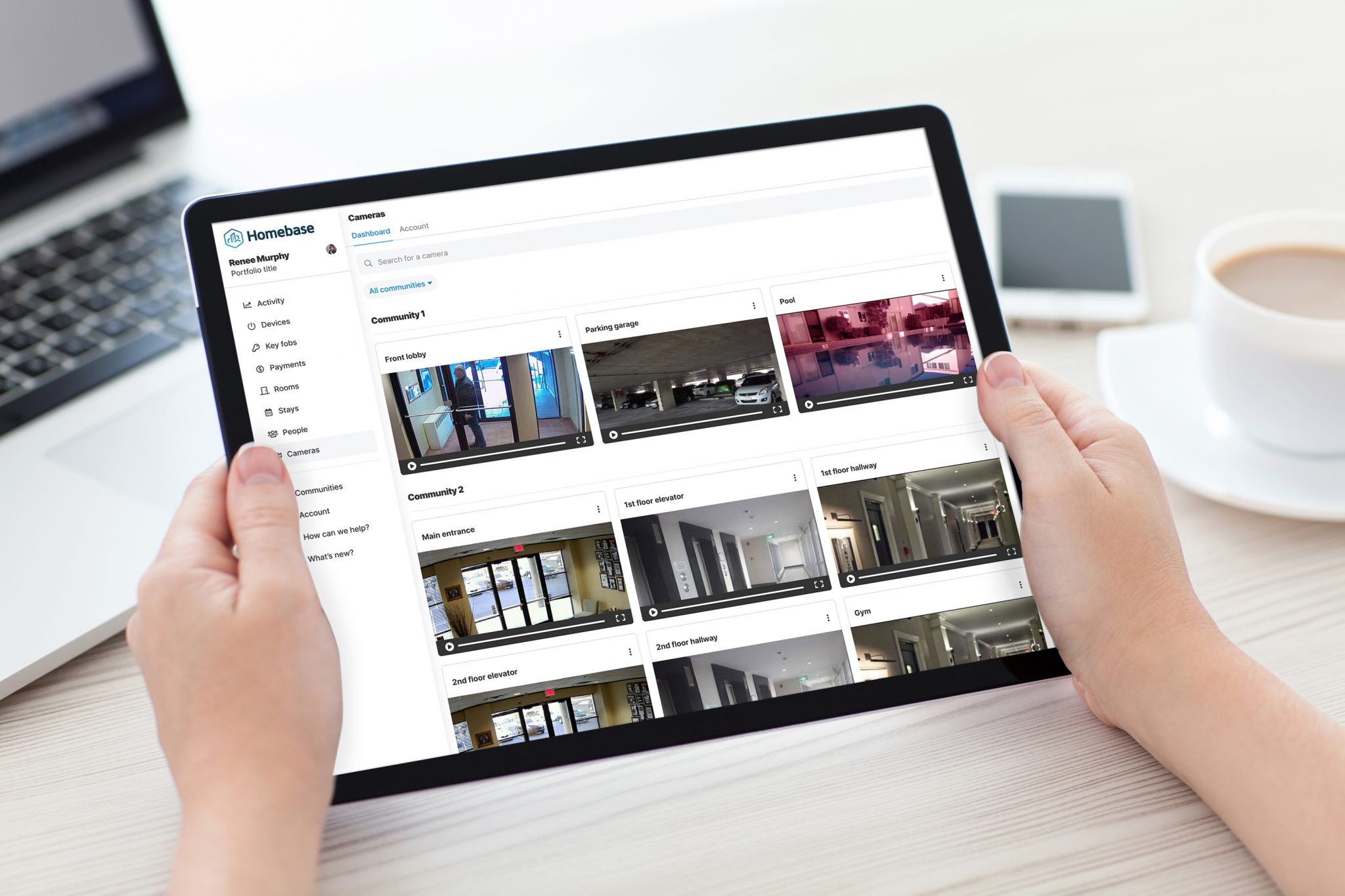 Learn more or schedule a demo of our solution for multifamily security cameras with partner Eagle Eye Networks.
Property technology had an expensive, steep barrier to entry when it first disrupted the multifamily real estate market over 5 years ago.
Great strides in affordability and accessibility make multifamily smart technology a no-brainer for property owners looking to add value that is mutually beneficial to themselves, residents, and staff.
Smart locks lay the foundation for a safe, secure property by eliminating traditional keys and providing insight into who went where and when. Last year proved property owners need to take this access control a step further. They need to have eyes on their property at all times, remotely.
Here are the top three reasons property owners need to upgrade their access control with smart multifamily security cameras.
Resident Safety and Security
Safety is at the top of everyone's mind in a post-pandemic world.
The presence of security cameras alone reduces crime and provides an automatic sense of security to residents. Surveillance systems offer protection for resident's personal items, pets, and guests. Ultimately instilling a sense of safety and security that residents are willing to pay more for, even in areas with low crime rates.
Why is this important? One benefit of reducing crime is saving money on costly repairs associated with theft and vandalism.
Deterring crime leads to less resident turnover and more consistent occupancy rates. Under normal market circumstances, maintaining a steady occupancy rate requires attracting new leases and renewing existing ones. As new leads slow due to Covid-19, owners must rely heavily on retaining existing residents for consistent occupancy rates.
The safer you make the renting experience, the longer your residents will stay.
Enhanced Remote Capabilities
Provide a total sense of security by monitoring all assets inside and outdoors including pools, parking garages, and shared resident spaces.
Smart multifamily security cameras eliminate the need for 24/7 monitoring by notifying owners when there is activity. This gives owners and staff what they need most: more time to accomplish tasks with the added comfort that the property is secure.
Stored data allows owners to pinpoint a specific historic event and view corresponding footage as needed. The ability to monitor events at your property remotely, at all hours helps owners stay connected from anywhere. This is the perfect solution for eliminating unauthorized sublets or excessive guest access.
Use multifamily smart cameras to your advantage during times of social distancing. Limit the number of guests in shared spaces. Give maintenance the ability to clean shared spaces after use without coming in contact with residents and guests. Identify any users should they choose to disrespect these shared spaces.
Safely grant one-time access to vendors or guests with the added comfort of remaining socially distanced. Provide enticing amenity options for potential renters such as self-guided tours and automated move-ins.
Secure third-party vendor access. Enable resident services such as grocery delivery or dog walkers. Staff and residents feel safe knowing access is being controlled and monitored by a smart building security system.
Competitive Edge of Multifamily Security Cameras
Owners should adopt cloud CCTV surveillance as an additional protective safeguard for their residents and staff before they fall behind the curve.
Multifamily security cameras finally give property owners unarguable answers when events are in question. No more "he said, she said" when the unavoidable happens. Owners now have a definite source of truth.
Save on operational costs with insurance discounts by combining smart access control and cloud apartment CCTV.
Access control and cloud surveillance are key components of managing risk at any property. Broadly speaking, insurance representatives take all protective safeguards into account when evaluating property coverage in order to generate a discount.
Yes, there is a reason they want to know about every camera, smart lock, alarm, sprinkler, etc. in a building. In theory, the more owners do to manage risk at their properties, the less they'll pay in insurance premium.
Cloud surveillance is a powerful marketing tool owners use to attract potential renters. Especially in a post-pandemic world where safety is the new luxury.
More smart to come
2020 ignited a rapid digital transformation across almost every industry that's not slowing down anytime soon.
With smart apartment technology quickly becoming the norm, it's time to upgrade your community's access control system with cloud apartment CCTV.
We've partnered with Eagle Eye Networks, the #1 provider of cloud video surveillance worldwide, to make Homebase Access an all-encompassing, smart building security solution.
Apartment owners get the best of both worlds with smart access control and cloud video surveillance in one, easy-to-use dashboard.
Installation is simple and handled by Homebase Pro Partners for new communities, retrofitting or taking over existing surveillance systems. Request a demo today to take control of your property's future in an uncertain world.