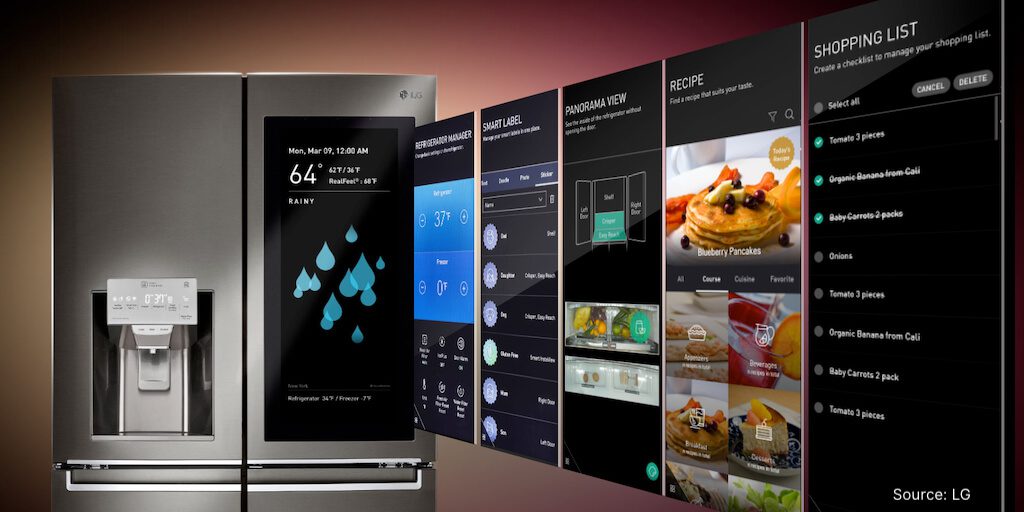 Luxury communities are often on the leading edge of multifamily trends, so are smart appliances the next battleground in the apartment amenity wars?
Residents at The Fairways of Ironhorse can afford to be selective. As a boutique retirement club, The Fairways caters to former CEOs and high net-worth retirees who want active lives and the highest of luxury.
"It's really more like living in a Ritz-Carlton than a retirement community," said Matt Gillam, VP of Development and Partner at Overland Property Group. Gillam is the project lead for The Fairways of Ironhorse.
Resident experience is a top priority for communities like The Fairways. It includes concierge services, an on-site restaurant, fitness trainers and activity coordinators.
The Fairways is also equipped with smart apartment technology, but not just wifi and smart locks. In pursuit of the ultimate resident experience, each unit comes with an LG smart appliance package that includes a smart refrigerator, washer/dryer, oven/range, dishwasher, and microwave.
The Benefits of Smart Appliances
Smart appliances have become a surprising selling point at The Fairways of Ironhorse. Gillam believes it's the type of amenity that residents don't know they need until they see it.
"The interest level has been far greater than we initially expected. We think [residents] are going to get in there, get used to the technology and not want to live without it."
At The Fairways, the decision to include smart appliances came down to two main benefits:
Proactive maintenance. Gillam and his team wanted the ability to monitor appliances and identify maintenance needs before they become an issue. "The problem can be addressed before it ever actually affects [the resident]," he said.
Additionally, smart appliances alert residents and management staff of more immediate problems, like an open refrigerator door or an oven left on overnight.
Ease of Use. Smart appliances make everyday living easier with mobile controls, Amazon Alexa, and integrations with guide cooking apps like SideChef, Innit, and most recently, Tovala.
Smart appliances save residents time and hassle by automating maintenance and improving functionality. It's an alluring idea for residents looking to live out their golden years in comfort.  "Making the day-to-day things easier is why this technology is so appealing in this demographic," said Gillam.
A Luxury Amenity for All
Time and convenience are not just goals for the retired or wealthy. According to NMHC 2018 Consumer Housing Insights Survey, "Nearly two-thirds (63%) of respondents… said their lives are so hectic that they look for ways to make things easier."
"Nearly two-thirds (63%) of respondents said their lives are so hectic that they look for ways to make things easier."
Apartment residents rely on their communities to make their lives easier. It's why we see a rise in coworking spaces, mobility as a service, and on-demand amenities.
Smart appliances are another way to provide convenience and peace of mind. Busy residents can control appliances remotely or with voice commands. They don't have to call for maintenance or worry about leaving the oven on.
The Cost and ROI of Smart Appliances
The cost of smart appliances can vary, but some models are more affordable than people realize. The LG Smart Wifi-Enabled Top Loading Washer, for example, starts as low as $629.
Prices will continue to drop as smart appliances & smart homes become more popular. Meanwhile, the ROI of smart appliances will rise as technology improves.
Multifamily communities can save and earn on smart appliances in several ways:
Premium rents.

A recent study from

Entrata

found that 84% of residents are willing to pay more rent for apartments with smart technology. The study didn't ask about smart appliances specifically, but The Fairways of Ironhorse is a real-life example of their ability to attract premium rents.

Energy efficiency.

All LG smart appliances are also EnergyStar-certified, which can save multifamily communities

thousands of dollars a year

.

Proactive maintenance.

Residents usually don't submit a maintenance ticket until something stops working. Smart appliances let management know when regular maintenance is required, preventing downtime and also extending the life of the appliance.

Higher resident satisfaction, less turnover.

The biggest cost for any multifamily community is turnover. If smart appliances become an amenity that people, "can't live without," as Gillam predicts, then it will be another reason for residents to renew their leases.
If smart appliances are considered a luxury amenity now, it won't stay that way for long, as multifamily communities at nearly every price point have the potential to earn more with them.
Smart Apartment Trends for 2019
So are smart appliances the next hot amenity? We think so. That's why we included them as a smart apartment trend to watch in 2019.
It's not because smart appliances make luxury living even more luxurious, but because they have the potential to change the lives of residents everywhere.
People use their appliances nearly every day. If smart appliances can shave even a few minutes off their chores, or give them one less thing to worry about during the day, it can make a significant impact on their wellbeing. This is true whether you're a 20-something city dweller or active retiree.
Luxury is no longer reserved for the ultra-wealthy. Renters have come to expect quality, convenience, and connectivity no matter where they live. Smart appliances are a way for multifamily developers to provide luxury for all.